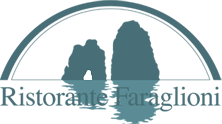 Dining beneath Restaurant Faraglionis traditional pagliarelle, watching the worlds beautiful people walk by,
in true Capri style...
An icon of island hospitality, Capri's Ristorante Faraglioni is famous throughout the world for its excellent traditional cuisin, its unbeatable location, and its celebrity clientele. Restaurant Faraglioni's tables are set along both sides of the final stretch of Via Camerelle, the pedestrian road renowned for its elegant boutiques and designer fashion stores.
On one side, traditional canopies made of straw, or paglierelle, transform each table into an intimate little dining room, on the other, a pretty pergola of century old wisteria guarantees both privacy and romance. Those who prefer to eat indoors, should book a table in the restaurant's elegant dining room, the walls of which are embellished with Sergio Rubino's paintings of Capri's most beautiful land and seascapes.
Restaurant Faraglioni first opened in the early 1900's, to cater to the new wave of visitors arriving on the island of Capri on the trail of the Grand Tour. Today's owner Giuliano and his son Giangiuliano have made every effort to conserve the atmosphere of bygone Capri, and even those customers returning to the eatery years after their last visit are unlikely to notice any significant changes. One thing is certain: you won't find designer interiors or fancy nouvelle cuisine at Ristorante Faraglioni. The restaurant remains steadfastly faithful to the island's age old traditions and the simple, flavor packed cuisine of Capri.
Location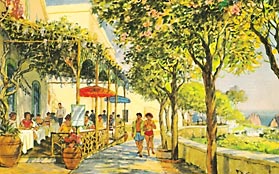 Restaurant Faraglioni is located at the end of Via Camerelle and the start of Via Tragara, the pretty path which leads to the homonymous viewing point. The restaurant is only a five minute stroll away from the Piazzetta, along the pedestrian road home to the Grand Hotel Quisisana and all of the island's most exclusive boutiques.
Specialties
Faraglioni's cuisine is proudly traditional. Menus feature all of the island's best loved dishes as well as a selection of classic Italian and international specialties. All-time favorites include spaghetti with crab and sea urchin sauce, and the chef's legendary lemon risotto. Needless to say, the fish is always wonderfully fresh and clients can choose their lobsters and crustaceans, direct from the fish tank.
The wine list features 600 of the finest Italian and international wines.